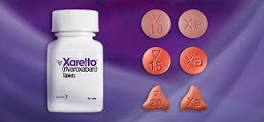 Have you, or a loved one, suffered an injury or death due to an anticoagulant regimen? Several common blood thinners, aka an anti-coagulants, that are linked to health risks like heart attack, internal bleeding, hemorrhaging, stroke and death is Xarelto. The manufacturers Bayer (think Roundup weedkiller cancer)and Janssen Pharmaceuticals (think Elmiron induced vision loss) have both been named in Xarelto litigation claims. In addition to Xarelto lawsuits, Pradaxa injury claims and Eliquis cases have been filed against the makers of the blood thinner Coumadin (Warfarin), If you, or someone you love, has been injured or killed due to Xarelto, Coumadin or other blood thinner call our medication injury attorneys. They offer free case reviews to those who may have anticoagulant error malpractice lawsuits.
Our Xarelto injury lawyers handle these claims, which are mass tort claims, free of charge unless they recover for you. They have the skills and resources to hold big drug companies accountable for the wreckage their medications have caused.
What Are Anticoagulants?
Blood thinner is a lay persons term for an anticoagulant. These are a class of prescription meds that serves 2 purposes:
They prevent blood clots, aka embolisms, from forming
Blood thinners also keep existing embolisms from getting larger
Blood clots in your cardiovascular system can result in lead to blockages, heart attacks and strokes.
There are 2 types of anticoagulants:
Anticoagulants such as Heparin, Coumadin, Xarelto, Pradaxa & Eliquis
Antiplatelet medications such as aspirin or baby aspirin
Who Needs Blood Thinners?
A regimen of anticoagulants may be indicated for anyone with:
Heart disease
Blood vessel diseases
Congenital hear defects
A high risk of blood clotting following a surgery
A heart valve replacement
Atrial fibrillation (an abnormal heart rhythm)
Contact Our Attorneys Handling Blood Thinner Injury Lawsuits Nationwide
If you, or a loved one, has sustained illness, injury or death due to an anticoagulant regimen contact our Xarelto injury lawyers for a complimentary case analysis. They do not charge you a penny if they do not recover benefits and compensation for you.
No matter what state you were injured in our team of Pittsburgh Pennsylvania personal injury lawyers can help as they serve all 50 states, Puerto Rico and Washington D.C. including: Alabama, Alaska, Arkansas, California, Colorado, Connecticut, Delaware, Florida, Georgia, Hawaii, Idaho, Illinois, Indiana, Iowa, Kansas, Kentucky, Louisiana, Maine, Maryland, Massachusetts, Michigan, Minnesota, Mississippi, Missouri, Montana, Nebraska, Nevada, New Hampshire, New Jersey, New Mexico, New York, North Carolina, North Dakota, Ohio, Oklahoma, Oregon, Pennsylvania, Rhode Island, South Carolina, South Dakota, Tennessee, Texas, Utah, Vermont, Virginia, Washington, Washington D.C., West Virginia, Wisconsin and Wyoming.