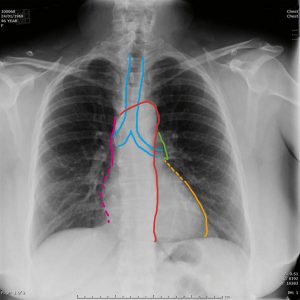 Asthma, also known as reactive airway disease, is a breathing disorder. Asthma can be caused by a number of things, including the workplace environment. Work related asthma is a very common workplace illness in the United States. If you have developed asthma as a result of your
professional or work environment it makes sense for you to contact our asthma injury lawyers. Our legal team has more than 50 years combined experience handling all types of work related occupational illness claims. Call or email them today for a free consultation and analysis of your case.
To arrange a free initial consultation with our asthma injury attorneys please click here. They handle all accident, injury, misdiagnosis and workers' comp claims on a contingency fee basis. What this means to you is that there are no out of pocket costs and they only take a fee if they obtain benefits and financial compensation for you and your family.
Asthma Symptoms
Coughing, especially at night
Wheezing
Shortness of breath
Tightness, pain and pressure on the chest
Asthma may sometimes go unnoticed for an extended period of time. Other people may experience asthma symptoms on a regular or daily basis. Still, others may only have asthma when exercising or when immunocompromised such as when having the flu, cold or respiratory
infection.
Work Related Asthma Injuries
There are many different workplace environments that can induce asthma in a worker. Some of these a work environments are: airports, oil refineries, groundskeepers, hospitals, chemical plants, paper mills, construction jobs, coal mines and gas stations. Sometimes these work settings can cause asthma to develop or worsen. If you suspect your asthma has been induced or worsened due to your professional activities do not hesitate to contact our Maryland occupational accident & illness attorneys.
Asthma Misdiagnosis Lawsuits
In addition to being a common occupational illness asthma is also a commonly misdiagnosed medical condition. While numerous cancers are the most commonly misdiagnosed illnesses and diseases asthma is incorrectly diagnosed a large percentage of the time based on studies conducted by the NIH. A proper respiratory function assessment is needed to confirm an asthma diagnosis. Even when these are done asthma can still be overlooked and or inaccurately diagnosed which can lead to missed treatment options. Diseases, conditions and illnesses that mimic asthma are:
Sinus infections including bacterial infections and viral infections
Airway obstruction
Vocal cord dysfunction and polyps
Cystic fibrosis
Pulmonary embolism and or deep vein thrombosis
Heart failure
Enlarged or swollen lymph nodes
Acid reflux
Cancer
Bronchopulmonary dysplasia
If you feel your asthma was not diagnosed properly or in a timely fashion you may be able to seek legal recourse by filing a medical malpractice lawsuit. Our New York medical negligence attorneys can help you with every aspect of your claim.
Contact Our Asthma Injury Attorneys
Please click here to contact the California asthma injury lawyers regarding your work related injury claim. You can email our Workers Compensation Lawyer here. Let them fight for your rights and get you the compensation, medical care and benefits you deserve.
Serving the entire country including Delaware, California, Maryland, Washington D.C., New Jersey, New York, Pennsylvania, West Virginia, Florida, South Carolina, Massachusetts, New Hampshire, Connecticut, Rhode Island, Vermont, Maine, Oregon, Oklahoma, Nebraska, North Carolina, North Dakota, South Dakota, Montana, Wyoming, Wisconsin, Illinois, Ohio, Indiana, Virginia, West Virginia, Tennessee, Georgia, Alaska, Hawaii, Arizona, Arkansas, Louisiana, Iowa, Idaho, Indiana, Missouri, Mississippi, Texas & Alabama.