Brain Stem Injury Lawsuits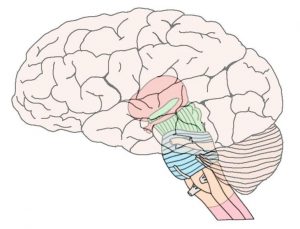 Suffering an injury to the brain stem will impact your life forever. As with any brain injury the injury victim never truly recovers and they are never the person they were before the accident. Our brain stem injury attorneys have handled numerous brain stem injury claims during their legal careers and feel that the liable parties should be held accountable for their actions. If you have suffered a brain stem injury you need the help of a skilled brain stem injury attorney.
Please contact our New Jersey brain injury attorneys for a free consultation. Let them get you the benefits and financial compensation you rightfully deserve for your injuries, lost wages, pain, suffering and other losses. They charge no fees if they do not recover for you. Proudly serving all 50 states including Hawaii, Alaska, Nevada, New Mexico, Delaware, Tennessee, Washington, Puerto Rico, Washington D.C., Virginia and Maryland.
Anatomy Of The Brain Stem
Located beneath the cerebrum and in front of the cerebellum, the brain stem is the part of the brain that connects the spinal cord to the rest of the brain. It has control over involuntary muscles, such as the stomach and heart, and also relays messages from the brain to the rest of the body. It is responsible for many important functions in the body. Damage to the brain stem can cause significant short-term and long-term problems. Our Philadelphia, Pennsylvania brain injury attorneys have been representing clients in accidents resulting in all types of brain injuries. They can help you get the medical treatment that you need and the compensation that you deserve to get through the recover process. With many years of combined experience, they have the skills and resources needed to help their clients and their families.
Signs Of A Brain Stem Injury
Trauma and impact to the base of the head can make the brain stem vulnerable to serious injury. Although very small, body functions can be disrupted and disabilities can develop if the brain stem is damaged. Consequences of a brain stem injury may include:
Memory problems
Difficulty concentrating and staying focused
Trouble walking and balancing
Loss of strength
Loss of sex drive and other behaviors
Cognitive problems
Paralysis
In some cases, when these injuries are treated in time, people can resume normal lives and get back to where they were before their accidents. In the worst cases, brain injury victims will require medical care for the rest of their lives. Our Wilmington, Delaware brain injury lawyers will review your case and pursue the maximum benefits that you need for the present and the future.
Call Our New York Brain Injury Lawyers
Our Baltimore, Maryland brain injury lawyers understand the trauma and loss associated with brain stem injuries. Contact our Irvine, California brain injury lawyers and let the, fight for your rights. Email us here to schedule a free case evaluation. Discuss your case with us and get the answers that you deserve. Serving those with Central Nervous System injuries throughout all 50 states.
No matter what state you were injured in our team of Pittsburgh Pennsylvania personal injury lawyers can help as they serve all 50 states, Puerto Rico and Washington D.C. including: Alabama, Alaska, Arkansas, California, Colorado, Connecticut, Delaware, Florida, Georgia, Hawaii, Idaho, Illinois, Indiana, Iowa, Kansas, Kentucky, Louisiana, Maine, Maryland, Massachusetts, Michigan, Minnesota, Mississippi, Missouri, Montana, Nebraska, Nevada, New Hampshire, New Jersey, New Mexico, New York, North Carolina, North Dakota, Ohio, Oklahoma, Oregon, Pennsylvania, Rhode Island, South Carolina, South Dakota, Tennessee, Texas, Utah, Vermont, Virginia, Washington, Washington D.C., West Virginia, Wisconsin & Wyoming.