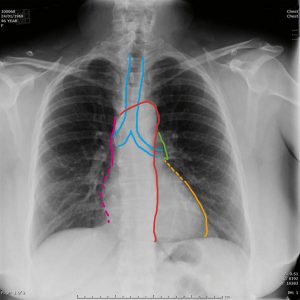 If you have been diagnosed, or been inaccurately diagnosed, with chronic obstructive pulmonary disease, aka COPD, you may be eligible for benefits as compensation. Please click here to contact our injury lawyers handing chronic obstructive pulmonary disease lawsuits now for a free case analysis. They charge no fees if they do not recover for you.
With offices nationwide they handle COPD cases resulting from medical misdiagnosis, nursing home neglect, hospital negligence and workplace exposure. They serve the entire country including Washington DC, Baltimore, Los Angeles, San Antonio, El Paso, Houston, Newark, Miami, Wilmington, Chicago, New York, NY, Pittsburgh & Philadelphia.
What Is Chronic Obstructive Pulmonary Disease?
The Mayo Clinic defines COPD as an inflammatory disease resulting in airflow into the lungs being obstructed. COPD is 1 of 3 different types of lung obstruction diseases. The other 2 are asthma and bronchiecstasis. Symptoms of COPD can include labored breathing, mucus production, sputum generation, rales, wheezing and a cough.
Bronchitis, asthma and emphysema are also commonly seen in patients with Chronic Obstructive Pulmonary Disease.
COPD Lawsuits
As with many illnesses there are a number of ways that you may be able to seek benefits, medical care and financial compensation for your injuries. How, when and where your COPD was developed and diagnosed will determine what options you have. For instance if you work in a Pennsylvania coal mine and develop COPD, asthma or any other respiratory system disease you may be entitled to workers' compensation benefits such as disability benefits, medical care and lost wage compensation.
If a loved one developed COPD or another serious respiratory disease in a nursing home you may be able to file a nursing home negligence lawsuit which can include medical benefits as well as pain and suffering compensation for the injured party and or their estate.
COPD is commonly diagnosed incorrectly which is usually due to not taking a complete medical history, work history and lifestyle history. Respiratory illnesses that mimic COPD, which can lead to a misdiagnosis, are cardiac arrythmia (irregular heart beat), congestive heart failure (CHF), pneumothorax, pleural effusion, pneumonia and pulmonary embolism. If your doctor delayed a proper diagnosis of COPD, or misdiagnosed it altogether you may qualify for benefits such as lost wage compensation, medical care and pain and suffering compensation.
Liability In Respiratory Disease Lawsuits
Much like the benefits you may be entitled to liability in COPD, lung injury and asthma cases can fall on your employer, your primary care physician, your pulmonologist, cardiologist, hospital or nursing home facility where misdiagnosis occurred.
Contact Our Hospital Injury Attorneys Handling COPD Lawsuits
If you are suffering with COPD life can be treacherous as the simple task of breathing is difficult, painful and can fill you with fear. Please contact our COPD misdiagnosis attorneys for a free case exam. They charge zero fees if they are unable to recover benefits and compensation for you.
With offices throughout the entire United States they serve injury victims in Alabama, Arizona, Arkansas, Alaska, Hawaii, California, Colorado, Connecticut, Massachusetts, Rhode Island, Vermont, Maine, New Hampshire, New Jersey, New York, New Mexico, Texas, Tennessee, Delaware, Maryland, Pennsylvania, Washington DC, Virginia, West Virginia, Wyoming, Wisconsin, Washington, Oregon, Oklahoma, Louisiana, Mississippi, Missouri, Iowa, Idaho, Indiana, Illinois, Michigan, Montana, Nebraska, North Dakota, South Dakota, South Carolina and North Carolina.