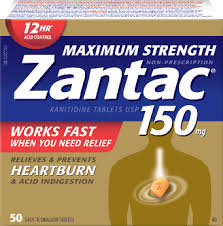 Zantac, and it's ingredient ranitidine, is a heartburn medication sold in prescription form as well as over the counter. There are claims that it has the carcinogen NDMA which is used to induce cancer in lab animals. It is a suspected human carcinogen as well. In September 2019 the FDA issued a warning and drug stores and pharmacies such as CVS and Walgreen's stopped selling Zantac in commercial and generic forms. One of the largest manufacturers of Zantac and generic ranitidine is Sanofi-Novartis. Please click here to contact our Delaware medication injury attorneys if you believe your cancer was caused by the heartburn and ulcer medication Zantac. They handle Delaware Zantac cancer lawsuits as well as claims in all other states, Puerto Rico and Washington DC.
Our team of DE product liability attorneys help cancer victims file their Delaware Zantac cancer lawsuits and ensure they get the maximum benefits, medical care and financial compensation. Our Dover, DE medication injury lawyers provide thorough case evals at no charge and charge nothing unless they recover for you.
How Zantac Causes Cancer
According to the World Health Organization and other organizations there are hundreds of carcinogens. A carcinogen is a cancer causing substance and there are different classifications such as being a possible carcinogen, suspected carcinogens and known carcinogens.
The heartburn medication Zantac contains ranitidine and tests show that there are levels of the carcinogen N-nitrosodimethylamine, abbreviated NDMA, in it. It can lead to numerous types of cancers such as stomach cancer, bladder cancer, kidney cancer, lymphoma, leukemia, lung cancer, breast cancer, brain cancer and others. NDMA, like other carcinogens, disrupts normal cellular activity which can lead to prolific cellular division. This uncontrolled cell division is what causes tumors throughout the body. Tumors are essentially cancerous growths and can be benign or malignant.
Litigating Zantac Cancer Claims
Cancer victims rarely think that they can seek justice by filing a lawsuit. The truth is that cancers of all types is the most common cause of medical malpractice claims.
In the case of Zantac cancer lawsuits the type of claim filed is not a medical malpractice case. It is a mass tort claim as the Zantac caused cancer in tens of thousands of Americans. In Zantac injury cases the lawsuit is filed against the drug manufacturer(s).
In cancer misdiagnosis lawsuits the lawsuit is filed against the doctor, hospital, healthcare facility, etc. Our Wilmington, DE injury lawyers handle these cases as well against healthcare organizations such as Christiana Care, Wilmington Hospital, Nanticoke Memorial aka TidalHealth, Beebe Hospital and all Bayhealth Hospital facilities.
Cancer injury cases of either type can warrant a settlements exceeding one $1,000,000.00. Each case is unique and our Newark, Delaware cancer injury lawyers will get you every penny you deserve for your lost wages, pain and suffering, medical expenses, lowered quality of life and any other applicable damages.
Attorneys Handling Delaware Zantac Cancer Lawsuits
No matter what type of cancer you have been diagnosed with, or what stage the cancer was in when diagnosed, you may be eligible for financial compensation in several possible ways. Please click here to contact our Wilmington, Delaware attorneys handling Zantac cancer claims. Their consults are free and they charge no fees if they do not recover for you.
Our Georgetown, Delaware injury lawyers serve the entire state of Delaware as well as the rest of the country. This includes the Wilmington, Newark, Middletown, Smyrna, Dover, Georgetown, Lewes, Seaford, Millsboro, Milton, Milford, New Castle, Pike Creek, Hockessin, Bear & Glasgow.