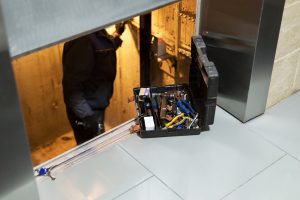 In the United States there are hundreds of thousands of elevators in all types of buildings such as farms, graineries, office buildings, hotels, malls, doctors offices, hospitals, restaurants, schools, universities, airports, ships, cruise ships and government buildings among others. Some elevators are for employees, clients, patients or tenants. Others are purely service elevators for staff and maintenance workers. Each of these elevators has the capacity for injuring, maiming or killing you, family member, an employee or a third party contractor if they malfunction or are not properly maintained. In fact, studies conducted by OSHA show that many injuries related to elevator accidents are fatal. If you have been injured in an elevator accident call the skilled injury attorneys handling elevator accidents. They are skilled Premises Liability Lawyers and will get you the benefits and financial compensation you rightfully deserve. All case evaluations are free of charge and they charge no fees if they are unable to obtain compensation for you.
With offices across the county they serve the entire United States and areas such as Los Angeles, New York, Chicago, Philadelphia, Wilmington, Baltimore, Washington DC, Houston, El Paso, Dallas, Austin, Seattle, Las Vegas and San Diego.

Causes And Types Of Elevator Accidents

While in most cases elevators are properly maintained an accident can still occur. Types of elevator accidents and their causes are:

Elevator Accidents Occurring At Construction Sites
Elevator Misalignment
Door Opening To Empty Or Vacant Shaft
Elevator Free Falling Between Floors
Slipping, Tripping And Falls In Elevator
Being Trapped In Elevator
Clothing Or People Getting Caught In Doors

Establishing Liability In Elevator Accidents

Elevator manufacturers, property owners, landlords, business owners, management companies, third party maintenance companies, contractors, subcontractors and employment agencies/labor companies can all be held responsible for an elevator accident and the injuries that result from the accident. The elevator type, type of accident and circumstances pertaining to the accident are all factors in determining liability in an elevator accident. A skilled and experienced Pennsylvania Elevator Accident Attorney will uncover who is liable and make them responsible for you, your injuries and any medical benefits or monetary compensation you are entitled to.

Contact An Elevator Accident Law Firm
If you have been the victim of an elevator accident you can reach our injury lawyers handling elevator accidents via email by clicking here. The Texas Elevator Accident Attorneys at our firm operate on a contingency fee basis meaning that they charge nothing unless they recover on your behalf. Call or email them today to schedule a free consultation. No fees are charged if they are unable to recover benefits, medical care and financial compensation for you.