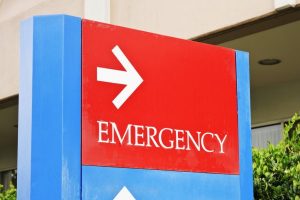 If you are sick, injured or in need of urgent and immediate medical treatment your only option may be to go to the emergency room. You most likely go the emergency room, urgent care center or acute medical care facility assuming that you will be properly tended to, cared for and accurately diagnosed. While this may normally be the case it is not out of the realm of possibility that you may be the victim of an emergency room error. In the event that you are the victim of an emergency room mistake it is a wise decision on your part to consult with our Emergency Room Malpractice Attorneys.
If you have been the victim of ER negligence call the Delaware Emergency Room Mistake Error Lawyers on our team. They have ample experience handling all types of medical malpractice lawsuits across the country.
Reasons For Emergency Room Mistakes
Studies by Harvard outline that 1 out of every 25,000 people who go to the emergency room will suffer some sort of medical negligence injury. There can be many reasons you, or a loved one, may suffer an injury while being treated in an emergency room or urgent care facility. These can include:
ER staff being overworked
Understaffed emergency room facility
Medication errors
Surgical errors
Misdiagnosis of cancers, COPD, Lupus, Diabetes, heart attack and stroke
Laboratory & X-Ray errors
Lack of patient supervision
Just under 50% of all emergency room malpractice claims have to do with a misdiagnosis of some sort. Also, failure to diagnose an illness or condition and every common in emergency room settings due to the need to help a patient and get them onto the next step whether it is surgery, admitted to hospital or sent home and discharged.
Inadequate patient histories and intake make up many cases of E.R. malpractice cases. Due to the way urgent and trauma centers work many patients are in and out without a follow up plan or the proper diagnostic tests, labs, x-rays, MRI's, EKG's etc. being done.
In adults the most overlooked diagnosis errors were for cancers, heart attack, stroke and other cardiac events.
Pediatric emergency room malpractice cases stem from missing a traumatic injury such as a broken or fractured bone.
Medication errors, which account for a small volume of medical negligence lawsuits each year, happen in the ER more often than they should. The lack of patient attention, vast array of accidents, injuries and illness allow for very serious medication errors such as wrong medication, adverse reaction to medication, wrong dose and route of administration. Our Delaware emergency room injury attorneys handle all of these malpractice lawsuits and others. Let them review your claim as a courtesy. No fees if they don't win.
Benefits And Compensation In Emergency Room Mistakes
The events leading up to your emergency room accident will help to determine what benefits and compensation you are entitled to. Also, the extent of your injuries will determine the benefits and compensation you are eligible for. Possible means of compensations and benefits you may be entitled to are: pain and suffering compensation, lost wages compensation, current and future medical benefits. Our skilled Pennsylvania urgent care malpractice attorneys will establish all possible means of compensation and benefits you may be entitled to.
Contact An Emergency Room Malpractice Lawyers
Call our Maryland injury lawyers regarding your emergency room rrror lawsuit. You may also email our Nevada Emergency Room Accident Attorney by clicking here. They handle medical malpractice claims on a contingency fee basis meaning no charges are needed unless he recovers for you.
Our emergency room injury lawyers serve the entire country including Alaska, California, Delaware, Maryland, Nevada, Massachusetts, Pennsylvania, Washington D.C., Texas, Florida, Illinois, New York, New Jersey, North Carolina, South Carolina, Georgia, Washington, Oregon, Michigan, Hawaii, Iowa, Idaho, Indiana, Louisiana, Mississippi, Missouri, New Mexico, New Hampshire, Puerto Rico, Virginia, West Virginia, Wisconsin & Wyoming.