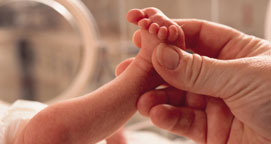 Meconium is fecal matter, aka stool, produced by a baby in the womb. It is comprised of things ingested during pregnancy. The breathing in of meconium, called Meconium Aspiration, is a response to stress such as a lack of oxygen. Meconium in the amniotic fluid is very dangerous for a fetus or newborn child. Illnesses due to Meconium is the amniotic fluid can result in Meconium Aspiration Syndrome, respiratory illnesses, infections and wrongful death. Please contact our Meconium Aspiration Syndrome injury lawyers to discuss your case.
Treatment Of Meconium Stained Fluid Ingestion
There are several different treatment options for a child or fetus exposed to meconium in the womb. These are:
Suctioning of the airways
Measures to support breathing and respiration
Administration of surfactant and or antibiotics
If the child's airway is obstructed by meconium the first step is for the physicians to suction it out. Doctors used to do suctioning whenever they saw meconium in the amniotic fluid or in the newborn's mouth, but this has not been shown to help.
Newborns who have trouble breathing post-delivery may need to have a breathing tube placed in their windpipe and be put on continuous positive airway pressure (CPAP). This technique allows newborns to breathe on their own while being given slightly pressurized oxygen. Newborns are admitted to the neonatal intensive care unit (NICU) and are given supplemental oxygen and may be placed on a ventilator (a machine that helps air get in and out of the lungs) if necessary. Sometimes suctioning is done to try to remove the meconium.
Newborns on a ventilator may be given surfactant (a substance that coats the inside of the air sacs and allows the air sacs of the lungs to remain open) and are observed closely for serious complications, such as pneumothorax or persistent pulmonary hypertension of the newborn.
Babies can also be treated with antibiotics administered intravenously due of the risk of an infection. If your baby has been exposed to meconium in the womb and has suffered illness, injury or death as a result you may be able to seek legal recourse via a medical malpractice lawsuit.
Please click here to connect with our Meconium Aspiration Syndrome and meconium stained fluid exposure attorneys. They provide free case reviews and charge nothing if they do not recover for you.
No matter what state you were injured in our team of Pittsburgh Pennsylvania personal injury lawyers can help as they serve all 50 states, Puerto Rico and Washington D.C. including: Alabama, Alaska, Arkansas, California, Colorado, Connecticut, Delaware, Florida, Georgia, Hawaii, Idaho, Illinois, Indiana, Iowa, Kansas, Kentucky, Louisiana, Maine, Maryland, Massachusetts, Michigan, Minnesota, Mississippi, Missouri, Montana, Nebraska, Nevada, New Hampshire, New Jersey, New Mexico, New York, North Carolina, North Dakota, Ohio, Oklahoma, Oregon, Pennsylvania, Rhode Island, South Carolina, South Dakota, Tennessee, Texas, Utah, Vermont, Virginia, Washington, Washington D.C., West Virginia, Wisconsin and Wyoming.