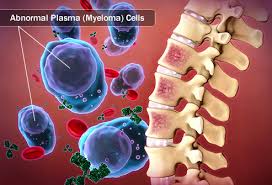 Have you or a loved one been diagnosed with Multiple Myeloma, Hodgkin's Lymphoma, Non-Hodgkin's Lymphoma, leukemia, lymphoma or any type of blood cancer? Do you suspect that your blood cancer diagnosis is due to exposure to carcinogens such as Roundup weedkiller which contains the cancer causing agent glyphosate? If so, you may be entitled to benefits and financial compensation as Monsanto, the manufacturer of Roundup, has been court ordered to pay more than $2 billion dollars in benefits and financial compensation to victims of cancer caused by Roundup herbicide.
Causes & Risk Factors Of Multiple Myeloma
Recently many cases of Multiple Myeloma, also known as Kahler's Disease, has no known causes. It has been linked to exposure to the carcinogen glyphosate which is the main ingredient in the weedkiller Roundup made by Monsanto, a Bayer owned corporation.
There are a number of risk factors associated with developing Kahler's Disease also known as Multiple Myeloma. They are:
-Being over age 65
-Being black or African American
-Genetic factors i.e. having a family member who has/had it
-Being obese, being more than 20% overweight or having a Body Mass Index (BMI) exceeding 30
Regardless of any risk factors you may have it is important that you contact our cancer misdiagnosis attorneys to determine if you are eligible for benefits and financial compensation.
Plasma Cell Diseases & Multiple Myeloma
A plasma cell is a cell responsible for the production of immunoglobulins. Immunoglobulins are antibodies that combat infections as well as strengthen and support the immune system. As with any type of cell found in the body plasma cells can mutate, become malignant and harm the bones, kidneys, heart, bone marrow and immune system. This can result in the victim becoming immunocompromised leading to serious illness. In addition to ML there are several other types of plasma cell diseases including Systemic Light Chain Amyloidosis, Monoclonal Immunoglobulin Deposition Disease, Monoclonal Gammopathy of Undetermined Significance (MGUS), Solitary Plasmacytoma and Smoldering Multiple Myeloma. Of these, having MGUS and or Solitary Plasmacytoma are risk factors for Multiple Myeloma.
Contact Our Multiple Myeloma Misdiagnosis Attorneys
In addition to being linked to the carcinogen glyphosate Multiple Myeloma can also be misdiagnosed which can result in further illness and wrongful death. ML is commonly misdiagnosed as Somatic Symptom Disorder. Regardless of how you developed Multiple Myeloma, what risk factors you have or what it may have been misdiagnosed as you may qualify for benefits and financial compensation. Please contact our medical malpractice attorneys handling Multiple Myeloma lawsuits.
No matter what state you were injured in our team of Pittsburgh Pennsylvania personal injury lawyers can help as they serve all 50 states, Puerto Rico and Washington D.C. including: Alabama, Alaska, Arkansas, California, Colorado, Connecticut, Delaware, Florida, Georgia, Hawaii, Idaho, Illinois, Indiana, Iowa, Kansas, Kentucky, Louisiana, Maine, Maryland, Massachusetts, Michigan, Minnesota, Mississippi, Missouri, Montana, Nebraska, Nevada, New Hampshire, New Jersey, New Mexico, New York, North Carolina, North Dakota, Ohio, Oklahoma, Oregon, Pennsylvania, Rhode Island, South Carolina, South Dakota, Tennessee, Texas, Utah, Vermont, Virginia, Washington, Washington D.C., West Virginia, Wisconsin and Wyoming.