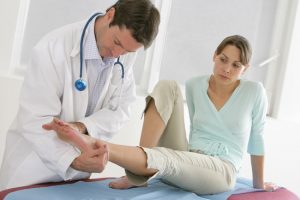 Doctor's of Podiatric Medicine, aka podiatrists, are healthcare providers who care for problems in your ankles and feet. That can include injuries from accidents or sports or from ongoing health conditions like diabetes. Some podiatrists have advanced training in other subspecialties of the foot. Podiatrists are not medical doctors but can still commit medical malpractice. Please contact our medical negligence lawyers if you have been inured by a podiatrist. Our legal team handles podiatrist malpractice lawsuits across the country.
If injured due to a mistake made by a podiatrist you may be eligible for benefits and compensation for your injuries, lost wages, medical expenses, diminished quality of life, pain and suffering. Let our podiatrist negligence lawyers review your case as a courtesy. If it has merit they will file your podiatrist malpractice lawsuit and get you the benefits yo need. No fee unless they win for you.
Reasons For Filing Podiatrist Malpractice Lawsuits
Some of the more common grounds for filing a negligence claim against a podiatrist are incorrectly diagnosing a foot or ankle illness or injury, not having proper clinical support to perform surgery, improperly performed surgical procedures resulting in further or irreversible injury, lack of informed consent, poor post-operation care, lack of proper communication with patient and other providers.
Podiatrist Negligence Lawsuit Settlement & Verdict Amounts
Our team of injury attorneys handling podiatrist negligence lawsuits have obtained very favorable settlements and verdicts for victims of podiatrist negligence. Some have been in the low 6 figures for minor medical errors and others have been well over $1,000,000. You can rest assured that our attorneys will get you the maximum amount of benefits and compensation for your podiatrist injury claim. Please contact them by clicking here.
No matter what state you were injured in our team of Pittsburgh Pennsylvania personal injury lawyers can help as they serve all 50 states, Puerto Rico and Washington D.C. including: Alabama, Alaska, Arkansas, California, Colorado, Connecticut, Delaware, Florida, Georgia, Hawaii, Idaho, Illinois, Indiana, Iowa, Kansas, Kentucky, Louisiana, Maine, Maryland, Massachusetts, Michigan, Minnesota, Mississippi, Missouri, Montana, Nebraska, Nevada, New Hampshire, New Jersey, New Mexico, New York, North Carolina, North Dakota, Ohio, Oklahoma, Oregon, Pennsylvania, Rhode Island, South Carolina, South Dakota, Tennessee, Texas, Utah, Vermont, Virginia, Washington, Washington D.C., West Virginia, Wisconsin and Wyoming.