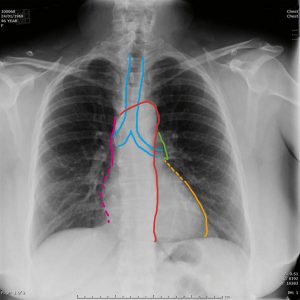 Medically X-rays are a form of electromagnetic radiation probably most well-known for their ability to see through a person's skin and reveal images of the bones beneath it. Advances in technology have led to more powerful and focused X-ray beams as well as ever greater applications of these light waves, from imaging teensy biological cells and structural components of materials like cement to killing cancer cells. An x-ray is a very important diagnostic test in patients who have pulmonary diseases such as COPD, lung cancer and tuberculosis. They are also used to determine the extent of broken bones, sprains and dislocations. An x-ray that is misinterpreted can result in a missed lung cancer diagnosis and can enable the cancer to spread. When this happens treatment options that were available in one stage and not possible in the next stage. This leads to a much more dismal prognosis (outcome) and lower chance of survival. Negligence on the part of an x-ray tech, pulmonologist, radiologist or any physician may be grounds for a medical malpractice lawsuit. If you feel that you have been the victim of x-ray result malpractice by a doctor, cancer center, emergency room or hospital please contact our medical negligence attorneys serving the entire United States including Washington D.C. and Puerto Rico. They charge no fees if they are unable to obtain benefits and financial compensation for you and your loved ones.
Who Can Commit X-Ray Result Malpractice
Literally any doctor, MD or DO, can be sued for x-ray result negligence due to misinterpreting the results or not reviewing them at all. Depending on the illness the patient has several different types of specialists can be involved such as infectious diseases, pediatricians, pulmonologists, oncologists, radiologists and internal medicine doctors.
Illnesses Seen In X-Ray & Imaging Negligence Lawsuits
These vary based on each patients situation but the most common illnesses are seen in the lungs. These can be lung cancer, lung disease, pneumonia, COVID-19, mesothelioma and tuberculosis.
No matter what illness or condition you are facing please contact our hospital negligence attorneys handling x-ray misinterpretation lawsuits across the country. Free case evals and no fees unless they win for you.